This article has been moved
here
. You should be automatically redirected. This old article may become out of date.
Advanced General Journal gives you the ability to import and export from the General Journal. This allows for the journal to be easily prepared in Excel and uploaded back into the General Journal Batch.
Export to Excel
From the General Journal page, select Export to Excel option.
To include dimensions, select the ellipses at the end of the Column Dimensions field to open the Dimension Selection screen.

The Journal Template Name and Journal Batch Name will default to the General Journal and Batch you are exporting from and any General Journal Lines currently in the General Journal Batch will be exported to Excel.
Click OK. An Excel file will be created with all fields required to complete a General Journal Line including the Dimension Columns selection when the excel template was created.
Fill out the Excel Template
Enter the journal details on the excel template. The data should be filled in as if it was being entered directly into Business Central.
There are various other tabs in the Excel template that can be used as a reference to the valid options. Excel will check fields to prevent incorrect values from being imported.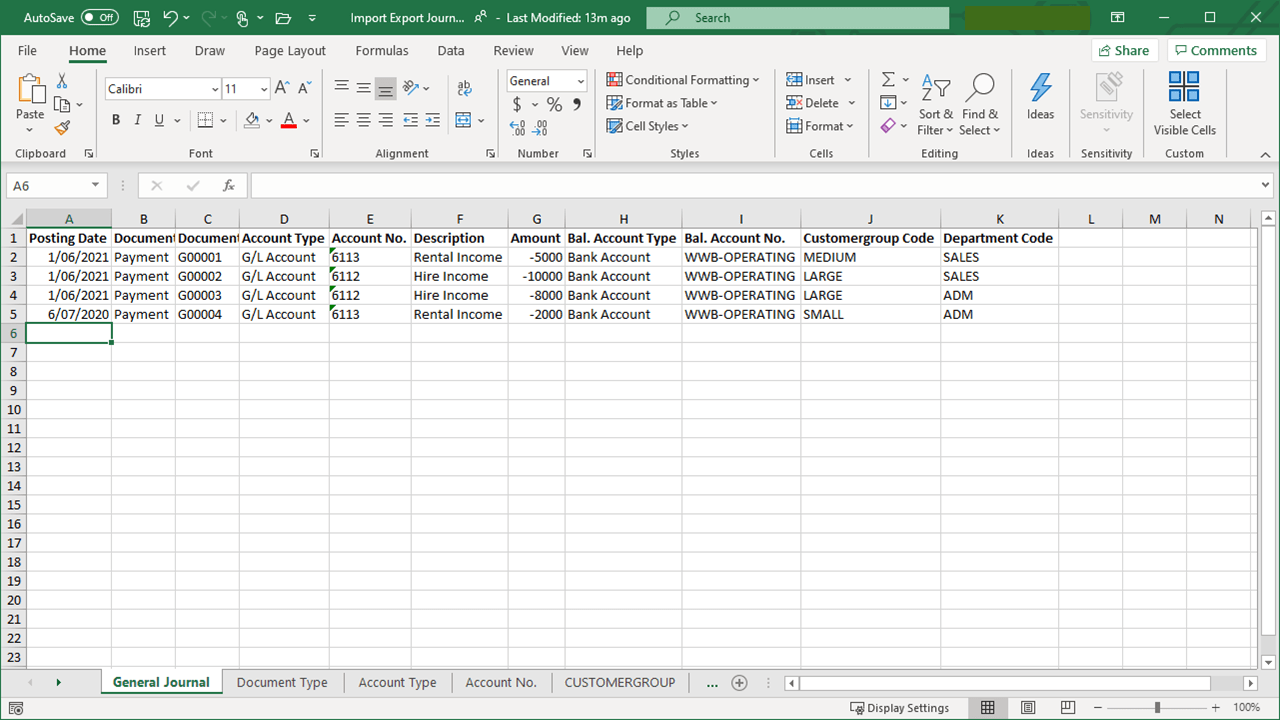 Import from Excel
To import the General Journal Template from Excel:
Run the Import from Excel function from the General Journal Batch.
Set the following option on the request page:


Option
Description
Workbook File Name
Click ellipses to browse to your Excel file
Worksheet Name
Select which worksheet in the file contains the journal data
Gen. Journal Template
Select the journal template to be used
General Journal Batch
Select the journal batch into which the data should be uploaded
Option

Add Entries: existing journal lines on the batch will be retained and journal lines from the Excel file will be added.

Replace Entries: existing journal lines on the batch will be deleted before the journal lines from the Excel file are uploaded.

Description
A default description to be used if the Description field in the Excel file is blank.
Column Dimensions
Select the same dimensions that are in the Excel file

Click OK to import.